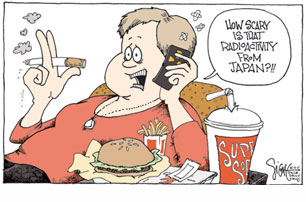 The
borrowed cartoon
is a comment on the American media hysteria over the Fukushima nuclear crisis, of course. Notice not only the cigarette, the sedentary lifestyle*, the day's worth of calories in one meal, and the insulin-shock inducing litre of high-fructose corn-syrup, but also the cell-phone
irradiating
the addled contents of the skull!
Am I an apologist for Tepco, the French Embassy in Tokyo or hysterical 'flyjin'? Hell no! But that doesn't release me from using my own cognition of the risks to act reasonably. Though I am still disappointed with
George Monbiot
.
*Placing her in a car would have been more apt.