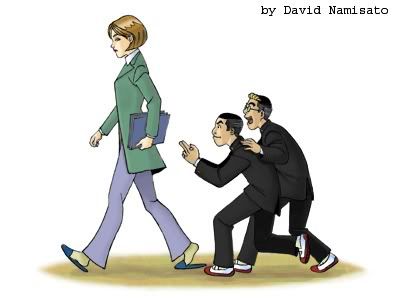 She has bigger problems.
I've got a friend who is a Anglophone local hire at a company downtown in Tokyo. It's not education, and she's not on an expat package: there lies her problem. She's here because she has a Japanese husband, and they have some kids. Kids are soon to enter school. She is very worried, and she doesn't have the money to send both to 'international school', which would be more than four-million yen: her full net-income used up. She'd also have to sell that to her husband. 'Your education was so bad we need to throw away half our coin.' Being correct never helps.
There's a lot you can say about Japanese
schooling
, and I have; however, it wouldn't tear me up too much to send my kids to Japanese elementary, with certain caveats. Japanese JHS and SHS:
no fucking way
. If you've a passing experience with Japan, I won't need to spell out the reasons not to do that to your children. Why would Japanese wealthy enough fill half of 'international schools' with unhybridized whelps?
I am a certified teacher, by which I boast nothing, except that if I were staying through my child's education I would be able to find employment at one of the 'international schools' which include free education for staffs' children: better than half. Many schools with middling salaries can attract teachers with excellent pedigrees as putting two of their children in the school for free doubles their net income.
A 'foreign hire' with a good (financial) package has nothing to worry about. The bastards.
What are you going to do if you are not employable at an 'international school', or on an expat package? Yes, I am looking at you AETs and owners of ESL schools. I worry for you. Put it another way: what's wrong with Japanese school for your kid? You want your child to become an adult who can think. No, I am not calling Japanese stupid. I have met a lot of stupid N.Americans, Brits and others. However, our education systems, if reinforced with good parenting by intelligent and curious parents, sets up kids to be successful for a variety of futures. Japan's system makes sausages: some filled with choice cuts, and others with sawdust, but all put in the same casings. Rote learning is not a curiosity-killer in elementary. I'd even say we should do more rote than we do in English countries in elementary, instead of 'letting children discover' at an age before they know anything, including what they might be curious about - much less capable at. So send them to Japanese elementary by all means but worry about these: racial insensitivity, English language capability, intellectual agility and university entrance opportunities.
You could make short-work of the racial insensitivities in many parts of urban Japan, so long as you have not bought property yet... Live in an area with other Gaijin and hybridized families. There is a lot of it going around in Tokyo. If my kid's in a class where not more than three-quarters are full-blood Japanese, at the very least a buddy's got his back on the playground. At best, some poor family a few years ahead of us taught the staff to do their jobs with an unhomogeneous student body (homogeneous Japan is a myth, but never mind that). If you are in the sticks, this isn't going to help.
That's not going to teach your kid academic English, analytical or rhetorical skills: neither will the Japanese education system or you (certainly not, and realistically not). So what do you do? What do you do if you don't have two-million yen to spare for each kid, for fifteen years? Well, what do ethnic groups in N.America do? They start their own Saturday language and culture schools. They go so far as to organize their own cultural centres. Are Gaijin doing that here? I don't know. I could research it, but I bet it would be the more numerous and marginalized in Japan who do: Filipinas, Chinese... I know the
N.Koreans do
. It would take more than Saturdays to make sure your kids were prepared to go to an Anglophone university, but hey, every kid in Tokyo seems to waste their youth at
juku
on weeknights. It might be possible to organize one not-for-profit, but my guess is that there are enough parents in a similar boat this is a viable business-plan.
If you keep it below a third of the cost of the 'international schools', you have a winner. We're gone within two years. If any reader can make use of this notion, consider it a gift.