Saw on the way to work this morning. If you know much about cycling, you know the rider's a twat, and most certainly a Japanese 'man'. The idiot doesn't know what he wants in a bike. This isn't even a mullet. It's a mullet with a french-braid and frosting.
I am shocked to see the saddle above the bars. Not because it's too uncomfortable a position for me to ride, but because the short-legged locals usually lower the seat too low even for such legs, so they can stay on the saddle flat-footed at stops. A working light at the rear, the scruffiness of a bike that's not a mamachari, and the U-lock*, might make you think it belonged to a Gaijin, but I am sure it does not. It's tiny, no Gaijin cyclist would lock that stupidly, and it has a kickstand.
What the hell is that bike trying to be? It's not an urban fixie for the cool kids, because of the gears and the kickstand - kickstands as common as dirt here, even on fixed-gears and road bikes (twats!).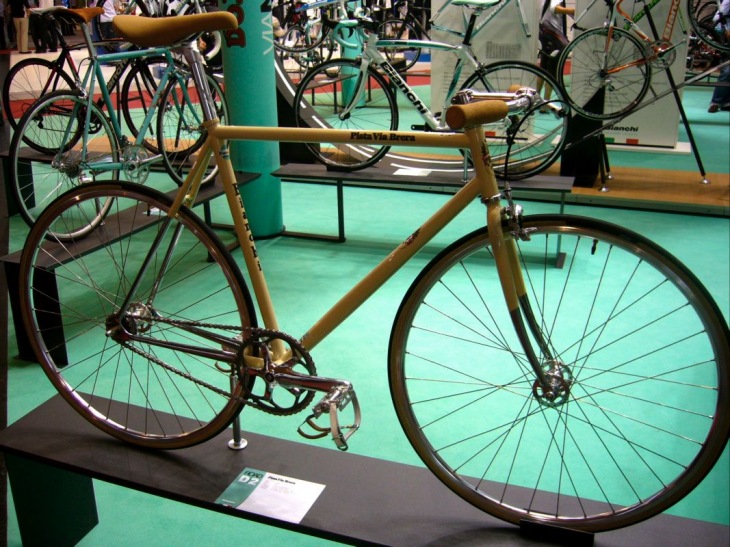 I've seen what real Tokyo messengers ride: much like in Toronto and New York, but with gears. It's a hilly city on the west side, and lights are frequent. But this one? Kickstand! Besides, you only run stupid narrow bars like that for dangerous traffic-filtering, which would be twice as dangerous without fixed gearing.
No, this is owned by a Japanese 'man': tries to be cool, but misses the mark by a fucking mile because he doesn't have a clue about the purpose of what he's trying to copy, or his own opinions about the bike best suited for him. Not just a sheep, but a witless sheep.
*It isn't really: some kind of cable involved.